We are Frankie and Emily. We love the mountains. We love good food. And we are vegan. With limited options in the marketplace for a lightweight, hearty vegetarian meal we decided to make our own to take with us to the hills. We started experimenting with making meals we loved to eat, full of flavour and goodness, and dehydrating them.
By the middle of each day of walking we'd be dreaming about which meal we were going to have for dinner, and looking forward to the deliciousness that awaited us. As friends of friends started requesting meals we decided that they were too good not to share! After illness and injury, Frankie found herself with too much time on her hands and unable to venture in the hills, she spent her recovery developing their business idea. In 2015 Local Dehy was born.
Two years ago Local Dehy launched their home compostable packaging option offering a sustainable alternative to the foil bags. A long term project was finally realised with a company called Econic, a Hamilton based business, who specialise in offering affordable packaging to small businesses. As adventurers in the outdoors we aim to adhere to concepts of kaitiakitanga,  reducing waste, and protecting our natural spaces. In addition, in our manufacturing practises we use environmentally safe cleaning products, reuse cardboard, and recycle as much food packaging that we can. You'll even find that our packing tape is compostable. We believe that every small contribution to sustainability is worth it!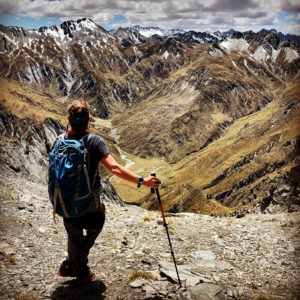 So, we live in a wee house in Lake Hawea, just outside of Wanaka, with our ginger cat Kehu, and mountains all around us. We make small batches of dehydrated meals in our custom built food trailer that sits in our driveway. Flavour is at the core of all our food and one of our central values. We believe in producing the most delicious meals you can eat in the mountains driven by our passion for food. We add lots of fresh veggies, toast and grind whole spices, and cook each batch with care for you to enjoy on your own adventures to the hills.