Zip Top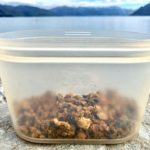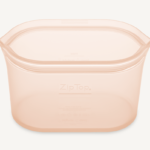 This reusable container ZipTop™  is made of platinum silicone which can withstand 200'C and are very flexible, so can easily be stuffed into a gap in your backpack without taking up much room. The base is stable and the opening is wide, making them easy to eat from. They retain enough warmth to rehydrate meals in most temperatures, though in very cold conditions you might want to use your beanie as a cosey.  The chunky zip top seal is robust, so you don't have to worry about hot food leakages, but we do recommend keeping them upright. 
The silicone makes cleaning it on the trail a breeze, and once back at home just chuck it in the dishwasher.  The ZipTop can also be used in the microwave, freezer, and around your home for everyday food storage. Weighing in at 170g this is a great lightweight option. This is the medium size ZipTop.
*ZipTop containers come with a two-year manufacturer's warranty.  Also the silicone in this product can be recycled. Munch Cupboard NZ have a "send back silicone" scheme where they repurpose the silicone into new products. You can send your ZipTop (and any other silicone items at the end of its life)  here.